Interpreting refers to the rendering of the spoken word in a different language, with the interpreter either speaking at the same time as the speaker in simultaneous mode or taking turns in consecutive mode. I will be happy to travel to your event anywhere in Germany and Europe.
---
Simultaneous interpreting
Are you organising a conference, a workshop or a general assembly and would you like all your participants to be able to understand everything that is being said in real time – even though some may speak a different language? Then simultaneous interpreting is your solution. In the simultaneous mode of interpreting at least two interpreters work together as a team in a sound-proof booth, rendering everything that is being said in the target language at precisely the same moment as it is said by the speaker. I can advise you on the necessary technical equipment and put together a team of professionals for your event.
---
Consecutive interpreting
Are you planning to give a brief presentation, a dinner speech or a laudation? As your consecutive interpreter I will literally stand by your side. I will take notes while you speak in your own language and when you make a natural break, I will repeat your words in the target language. I can advise you as to which situations would be suitable for the consecutive interpreting mode.
---
Liaison interpreting
Will you be sitting around the table with your international business partners? Are you planning to take your guests on a tour of your company? In these situations I will act as a liaison interpreter, rendering what is said in the target language and making sure that everyone is at ease and can follow the conversation.
---
Court interpreting
In my capacity as court interpreter I have taken a general oath accepted by all German courts which obliges me to truthfulness and secrecy. I will support you during court hearings, in your interaction with the German authorities and at notary appointments.
---
Remote interpreting
This is an interpreting mode used for conference calls or video conferencing. I can either be on site with you or join the call from my own office. I will be happy to tell you more about which settings are suitable for remote simultaneous or consecutive interpreting and about the technical requirements for each setting.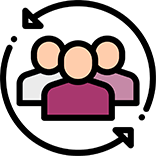 During my career I have interpreted for:
Queen Máxima

Her Majesty Queen Máxima, Princess of the Netherlands, Princess of Orange-Nassau

Bärbel Bas

Speaker of the German Bundestag

Steffi Lemke

Federal Minister for the Environment, Nature Conservation, Nuclear Safety and Consumer Protection

Bettina Stark-Watzinger

Federal Minister of Education and Research

Iván Ontaneda Berrú

Minister of Production, Foreign Trade, Investments and Fisheries, Ecuador

Heidi Berner Herrera

Undersecretary of Finance of the Republic of Chile

Martin Dulig

Minister at the Saxon State Ministry for Economic Affairs, Labour and Transport, Deputy Prime Minister of the Free State of Saxony

Daniel Libeskind

First architect to receive the Dresden International Peace Prize, 2023

Abdulrazak Gurnah

2021 Nobel Prize Laureate in Literature

Pierre Berg

Holocaust survivor and author

Kim Phuc Phan Thi

Survivor of a napalm attack in Vietnam

Muzoon Almellehan

Syrian activist for the human right to education

José Carreras

Star tenor and founder of the Josep Carreras Leukaemia Foundation

Robbie Wiliams

Singer

Bonnie Tyler

Singer

I have worked on conferences in the following fields:
Biogas
Protection of the environment and the oceans
Education and research
Travel and transport
Laser technology
Lignite mining
Homoeopathy
Medicine
Leather processing
Textiles
Light engineering
Fire safety
Meetings of Bundestag committees
TV broadcasting
Ceremonial occasions, including award ceremonies